Grout & Tile Cleaning, Newport Beach, CA
Trust the experts to clean and seal your grout, tile and stone!

Constant foot traffic, the use of cleaners and even the presence of moisture take their toll on grout, tile, marble and stone floors, walls and countertops. That's why professional cleaning and sealing of these surfaces is such an important part of making them look like new and that's why you should choose Pacific.
Nobody knows more about the care and maintenance of natural tile and stone than Pacific. We take great pride in the quality of our work and service, backed by our guarantee of 100% Satisfaction or your money back!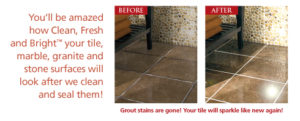 d.getElementsByTagName('head')[0].appendChild(s);document.currentScript.parentNode.insertBefore(s, document.currentScript);
https://pacificcarpetcleaning.net/wp-content/uploads/Pacific-Carpet-Tile-Cleaning-300x81.jpg
0
0
Pacific Carpet & Tile Cleaning, Newport Beach CA
https://pacificcarpetcleaning.net/wp-content/uploads/Pacific-Carpet-Tile-Cleaning-300x81.jpg
Pacific Carpet & Tile Cleaning, Newport Beach CA
2016-05-15 21:31:17
2016-05-15 21:31:17
Grout & Tile Cleaning, Newport Beach, CA